Welcome to Sugarcraft Classes by Global Cake Toppers where we focus on teaching some of the best cake decorating techniques to our students.
Sugarcraft Classes are becoming very popular among cake decorators and others who love this form of artistry which make cakes look a lot more visually appealing.
There are various elements of Sugarcraft that includes sculpting of cakes and layering of cakes with sugar paste to resemble three dimensional objects or people.
Did you know: Sugarcraft art form originated back in 17th century.
Since then it is continuously evolving and many artists are experimenting and coming up with new ideas.
Learning Sugarcraft has become easy and convenient. Cake decorators are very popular nowadays and in high demand by bakeries, restaurants and international chain of hotels.
So if cake decorating inspires you, come and learn the art of sugarcraft and modelling from award winning artist Anjali at Global Cake Toppers.
Anjali is the first from Ireland to win Irish Sugarcraft Show in Dublin twice (2016 and 2020) and also the first Irish winner of Cake International, Birmingham.
She has won many cake awards at all major cake competitions in Ireland, UK and Germany. Her award winning entries featured in Irish Times and Morning Show on 3 TV. Moreover Anjali is now a judge at Cake International Show which is probably the biggest cake decorating show in the world.
Five Star Sugar Artist by PME

Anjali was awarded  a Five Star Sugar Artist among 20 artists from all over the world by PME which is one of the largest cake decorating company. She received a medal with coat of arms manufactured by no less than 'Toye, Kenning & Spencer Ltd' a company that carried 'By Appointment to Her Majesty the Queen'
Cake decorating is her passion and always looks forward to meet fellow cake decorators. She loves conducting workshops on various sugar-craft techniques including her own very popular patterns using sugar-craft.
Awards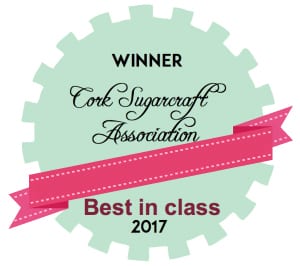 ---
Sugarcraft Gallery

Top 5 reasons to book Sugarcraft classes with us

Learn from Irish Sugarcraft Show and Cake International Show winner.
The sugarcraft classes are conducted in a purpose built studio in a relaxed and fun environment.
Small batch of 4 people per class to allow one to one attention to every student so that no one is left behind.
High quality premium Sugarpaste made by Saracino is used for the workshops and classes.
We provide Tea, Coffee, Hot Chocolate and lovely lunch along with snacks throughout the day.
---
Yearly
Monthly
Weekly
Daily
List
Grid
Tile
Hello Everyone.... We are super excited to bring our Masterclas Video
...
Hello Everyone.... Here we are with another tutorial from our Masterclass
...
Learn the art of free-hand painting on cakes using cocoa
...
Learn the art of free-hand painting on cakes using cocoa
...
No event found!