Sugarcraft has become immensely popular form of artistry to make plain cakes look more visually interesting. Various elements of sugarcraft include sculpting of cakes and layering of cakes with sugar paste to resemble three dimensional objects or people. Therefore sugarcraft classes to learn these cake decorating techniques are also gaining popularity. Similarly this art form which originated back in 17th century is continuously evolving and many artists are experimenting with their new ideas.
So if cake decorating inspire you, come and learn the art of sugarcraft and modelling from award winning cake artist Anjali from Global Cake Toppers. She has won many awards at all major cake competitions in Ireland, UK and Germany. Also her winning entries had featured in Irish Times and on a morning Show on 3 TV. Moreover Anjali is now a judge at Cake International Show and a brand ambassador for Saracino which makes premium quality sugarpaste for cake decorations.
She became a known personality when she won Cake International Show in Birmingham and Irish Sugarcraft Show in Dublin back in 2016. Above all, cake decorating is her passion and she loves conducting her workshops traveling around the world.
Award Winning Badges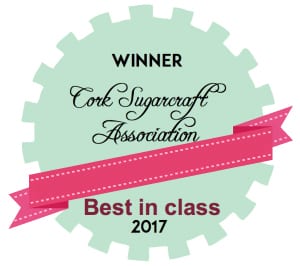 ---
Cake Decorating Gallery

Top 5 reasons to book Sugarcraft classes with us

Learn from Irish Sugarcraft Show and Cake International Show winner.
The sugarcraft classes are conducted in a purpose built studio in a relaxed and fun environment.
Small batch of 4 people per class to allow one to one attention to every student so that no one is left behind.
High quality premium Sugarpaste made by Saracino is used for the workshops and classes.
We provide Tea, Coffee, Hot Chocolate and lovely lunch along with snacks throughout the day.
What our students say about us !!!
I had the pleasure of attending a course in global cake toppers yesterday. It was a wonderful day Anjali is a lovely friendly person and so talented. I learned so much and look forward to going back again. Anjali is a amazing teacher I would recommend anyone who has an interest in learning to make cake toppers from a very professional person to book one of her courses.

Martina Burtenshaw


5/12/2019

We live in Cyprus and have now used Global Cake Toppers 3 times (Wedding, Christening & Birthday) and each time they have exceeded our expectations with the superb quality, thought and detail that is put into each creation. The whole process from the initial contact to receiving the topper is easy, efficient and very professional. If you want an exceptional topper for your cake then do not hesitate to use Global Cake Toppers!

SUSAN KONTOS


5/20/2019

Anjali is such a lovely lady! I've attended 2 classes the latest in her own studio! It's so bright and welcoming with personal touches everywhere! Sweeties on the table biscuits, juices, tea, coffee.... You are treated like family from the off! Then the lessons begin and we were given clear instructions at a pace which suits beginners - the experienced! When mistakes are made we wer encouraged to try again and the time allowed! Plenty of laughter too! The lunch was prepared fresh and there has to be a chef! The final product was magic too! So proud of myself! Could honestly write twice as much.... But all in all anyone who likes any craft should attend a workshop here!

Katie Lee


6/03/2019

I attended the 1 Day Teacup and saucer class with Anjali, yesterday, what an enjoyable day, Anjali is a talented tutor and fantastic host, Anjali shared her skill and knowledge with us in such a friendly and pleasant environment. We were well looked after and learned so much. Thank you

Geraldine Lindsay


6/02/2019
Yearly
Monthly
Weekly
Daily
List
Learn the art of creating intricate floral patterns using sugarcraft. ...
Learn to create patterned flowers that look magical,where you have ...
No event found!